Watch our Sheboygan County 4-H Bicycle Project Video Here: https://youtu.be/3FjfH04mDBQ
Fair Entry Department, Class and Lot
Department 24 – Mechanical Sciences CLASS E – BICYCLE Lot No. 20
Description: Educational display related to bicycles
Possible Fair Projects
Bicycle Riding Pack
Bicycle repair kit
Parts of a bicycle
Poster or journal – places traveled via bike
Log the miles you bike in one year
Demonstrate how to adjust the handle bar, chain, peddles and sead for a rider
Poster or display – bicycle rules and safety
Poster or display hand signals for riding in traffic and safe places to ride
Poster Care of tires
Poster or Display of Safety equipment
Write about famous cyclists
Compare different bike styles
Research different bicycle careers
Field Trips
Organize a bicycle ride
Visit a bicycle shop
Visit a store that sells bicycle equipment
Visit a fitness center
Participate in a bicycle safety clinic
Community Service
Bike-a-thon for charity
Collect & donate used bikes for children in need
Volunteer at a bicycle marathon
Implement a community bicycle safety clinic Science & Technology
Critical Thinking
What are other sports in which people make sure their equipment fits properly?
What other times have you had to make adjustments so that equipment operates and performs safely?
What jobs can you think of that involve maintaining and repairing parts?
What other times is it necessary to do preventative maintenance for you personal safety?
How would you go about matching your personal interests and skills to a bicycle related career?
WI 4-H and Statewide Resources related to the Bicycle Project can be found athttps://fyi.extension.wisc.edu/wi4hprojects/mechanical-sciences/bicycling/
Sheboygan County Local Non-Motorized News and Trails

http://www.nomosheboygancounty.com/
Sheboygan County ReBike Program
Since it began several years ago, Sheboygan County's ReBike program has provided over 1,000 bicycles to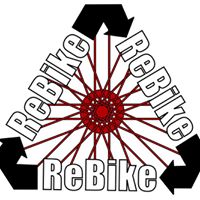 area residents in need.  The initiative is made possible by Paradigm Coffee & Music, as well as several very dedicated volunteers that hold the sessions every Wednesday from 5:30 – 7:30 pm at the basement of Paradigm.  Sheboygan County residents in need of a bicycle can attend a ReBike session, where they will be paired with a volunteer to spend a few hours working on a bicycle that has been donated.  Once any necessary adjustments are made, the recipient is free to take the bicycle home at no charge.  Because of its popularity, ReBike is always is need of bicycle donations in order to keep the program going strong and to provide residents with a bicycle that might not otherwise have had access to one.
Local Bike Shops
www.sheboyganbicyclecompany.com
https://www.facebook.com/bicycleworkssheboyganfalls/
https://www.facebook.com/pages/Johnnies-Bike-Shop/133598980025066