Sheboygan County 4-H youth and adult volunteers are still active and making a difference in their communities during these challenging times of COVID-19. Through both technology and a little bit of creativity, the youth and volunteer leaders are still keeping in contact.  Almost 45% of the 4-H clubs and committees have met using technology to continue communication and planning.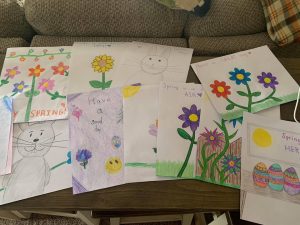 4-H is known for their generosity and giving of community service.  Therefore, a global pandemic couldn't stop the 4-H members from doing something to make a difference. A few things that youth members have been doing for community service include youth making cards and pictures for local nursing homes trying to spread cheer when residents were not able to have visitors. Another 4-H club provided candy to health care workers to thank them for their dedication to caring for those sick or injured. One 4-H club helped assemble snacks that were distributed for school lunch packs. Finally, one 4-H club general leader reached out to her club members and suggested that they help neighbors in need with yard care.
Now that it is finally getting a bit warmer outside, many of the clubs are continuing on with their typical community service that involves outside activities. While practicing social distancing and wearing masks and gloves, 4-H clubs are participating in their monthly roadside clean up. They keep together as families and decide who is cleaning what section and what side of the road. They are also working together to keep our 4-H Camp Riversite picked up by selecting different days and times and tasks to complete.
Talking with club and committee leaders, many of them stated that they felt it was very important to keep in contact with the youth members. One leader had said that she feels it is necessary to reach out to the youth right now since school has been canceled and they lost their typical social interactions and adult support system. Through emails, phone calls and Facebook posts, volunteer leaders are letting the youth in their clubs know that they care and are available.