Hello 4-H Families!
Zoom online meetings:
Extension staff and volunteers across the state have been using zoom for over a year to convene people conveniently. We are likely to utilize Zoom more frequently in the future (regardless of novel COVID-19). It might help to check out the following two videos to increase your comfort with this technology. To schedule any of your meeting opportunities via Zoom, please contact Sarah Tarjeson or Linda Robson. We'd love to help! Zoom is available via your smartphone, laptop, tablet or even via a phone line.
How to Join a Zoom Meeting Video
Thank you all for being understanding during this time of change and uncertainty as to what is going on and when. We will try our hardest to communicate everything as clearly as we can. If you have questions, please do not hesitate to contact us.
Linda Robson
4-H Youth Development Program Coordinator
UW Madison Division of Extension Sheboygan County
5 University Drive
Sheboygan, WI 53081
920-459-5914
linda.robson@wisc.edu  **NOTE: new email address**
711 for Wisconsin Relay
Printable version of this letter
4-H is a community of young people across America who are learning leadership, citizenship and life skills.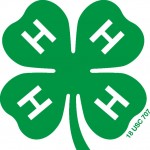 4-H Google Calendar
Staff

If you have any questions regarding 4-H Youth Development in Sheboygan County, please contact: