Since 2011, Kevin has conducted 13 voluntary well water testing events in Sheboygan County towns, including the most recent in the Town of Holland. The Town's residents submitted 99 tests, which Kevin collected on April 12th and then transported to the lab at UW-Stevens Point the following day for analysis. Town officials were happy with the turnout. "Thanks for providing this service," said the Town Chairman. "Testing is something we may not normally think of doing, but this makes it very convenient."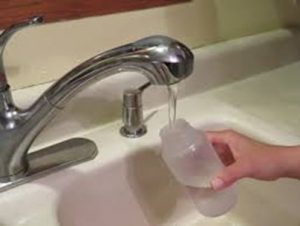 Indeed, several people commented that it had been a long time since they'd tested — if ever. "I've been in my house for 35 years and never tested," said one participant.
The program is not overseen by the DNR. Poor test results will not require a well to be shut down. Results are confidential and any sharing of the data is done without names or addresses attached.
For a $20 fee (normally $55), well owners could participate in the "Homeowners Package," which included tests for bacteria and nitrate-nitrogen, two of the most common health-related water concerns. In addition, pH, hardness, alkalinity, conductivity, chloride, and corrosivity were measured.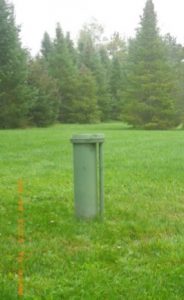 Other test packages were also available, including a "Metals Package" that tested for arsenic, lead, and nine other metals ($30), and a "Triazine Screen" that tested for atrazine pesticides ($33).
Test results will be mailed to each participant by early May. Those well owners with samples that test positive for coliform bacteria, however, will be notified as soon as possible, and a follow-up test for E.coli will be conducted by the lab.
On May 18 at 6:30 p.m., a groundwater specialist from the UW-Stevens Point lab will hold a one-hour educational session via Zoom to explain the overall results for the Town. He will also help residents understand their test results and offer possible solutions to any problems.
Since 2007, the Extension Office in Sheboygan County has tested 1,311 wells within the county through voluntary town events like this one. As a result of that testing, coliform bacteria has been found in 206 wells; 43 wells had nitrate at levels above the health standard; 53 wells contained arsenic at unsafe levels; and 40 water samples showed at least some lead present.
Based on several comments from participants, the discounted prices (made possible by a Sheboygan County subsidy), was a factor in their decision to test their water in this program.
Please contact Kevin at kevin.struck@wisc.edu if you would like to be emailed a link to the Zoom session.