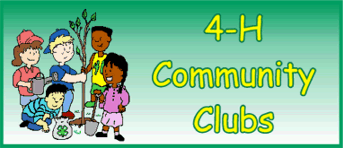 There are 27 different 4-H clubs in Sheboygan County. Check out the list below to find out which club has a meeting date, time and location that fits your family's needs. To join a club, contact the general leader, or show up to their meeting and join in the fun!
4-H Special Interest (SPIN) Membership is also available in the Sheboygan County 4-H Program. To find out more about 4-H SPIN Membership please visit https://sheboygan.extension.wisc.edu/4-h-spin-membership/
* Please note that the location in which the clubs meet is for when clubs will have permission to meet in-person. Until that time is deemed safe by UW-Madison and Wisconsin 4-H policies, clubs will be meeting in a virtual format.
Plymouth Clubs
Sheboygan Clubs
Sheboygan Falls Clubs
Greenbush/Elkhart Lake Area
Kohler Area
Cascade/Waldo Area
Howards Grove Area
Oostburg/Cedar Grove Area
Random Lake Area
4-H Club Meeting & Locations – 2021-2022
Clover Crusaders – Meets the second Tuesday , 6:30 pm @ Plymouth Fire Station, lower meeting room
County Mounties – Meets the first Monday, 6:00 pm @ Plymouth High School Cafeteria
Johnsonville Hustlers – Meets the first Monday, 7:00 pm @ Laack's Hall, Johnsonville
Willing Workers – Meets the second Monday, 6:15 pm @ Plymouth Town Hall
Leaping Lizards – Meets the second Tuesday, 6:30 pm @ Sheboygan Outboard Club
Sheboygan Shooting Stars – Meets the first Monday, 6:30 pm @ Extension
Wilson Wildcats – Meets the first Thursday, 6:30 pm @ Extension
Wise Wizards – Meets the first Tuesday, 6:30 pm @ Extension
Lima Lites – Meets the second Tuesday, 7:00 pm @ Lima Town Hall
Madison All-Stars – Meets the second Tuesday, 7:00 pm @ Sheboygan Town Office
Ourtown Orioles – Meets the second Monday, 6:45 pm @ Faith United Methodist Church, Sheboygan Falls
Sheboygan County Wranglers – Meets the first Monday, 6:30 pm @ St. Paul's Lutheran Church, Sheboygan Falls
4-H Eagles – Meets the second Monday, 6:30 pm @ Hermitage Club
Spring Valley – Meets the second Monday, 7:00 pm @ Greenbush Town Hall
Hub City – Meets the first Sunday, 6:00 pm @ Kohler Public Library
Parnell Pals – Meets the first Monday, 7:00 pm @ St. Pauls, Cascade
Waldo Fireflies – Meets the first Monday, 6:30 pm @ Waldo Fire Hall
Herman Cheerios – Meets the first Monday, 7:15 pm @ Howards Grove Middle School
Mosel Farm & Home – Meets the second Monday, 6:30 pm @ Haven Fire Station/Mosel Town Hall
Oostburg/Cedar Grove Area
4-H Rangers – Meets the first Monday, 6:30 pm @ Oostburg Library
Hingham Handy Helpers – Meets the second Monday, 7:00 pm @ Hingham Town Hall
Lakeview Badgers – Meets the second Monday, 6:30 pm @ First Evangelical Presbyterian Church, Cedar Grove
Trailblazers – Meet the second Monday, 6:30 pm @ Oostburg State Bank
Scott Pioneers – Meets the second Monday, 6:30 pm @ Town of Scott Community Center
Sehrman Workers – Meets the first Monday, 6:30 pm @ Silver Creek Fire Hall
Town & Country – Meets the first Sunday, 3:00 pm @ Random Lake Fire Department
Map of 4-H Club Meeting Locations, Leaders and Members
Contact 4-H Youth Development for more information.
Phone: (920) 459-5903