Sheboygan County 4-H Summer Project Day – June 2022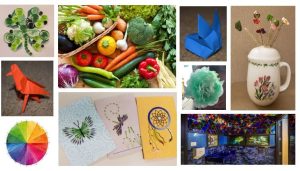 Don't miss our second or SUMMER 4-H Project Day!  Registration is due by May 20, 2022 Please Register Early! Registration can be submitted via this link.
The 2nd Summer 4-H Project Day will be held on Saturday, June 4th at the UWGB-Sheboygan campus. Kids will participate in 3 different 1-hour block sessions. From arts and crafts to scientific fun, there are project workshops for everyone! Adults and older youth are needed to volunteer to set up and clean up. If you are available to help, please contact Emily Jensen at ejjensen6@wisc.edu or 920-459-5903.
Check out the June 2022 Project Day Brochure to see all the projects available! We are excited to see you there!
Sheboygan County 4-H Softball 2022
We will be playing FOUR softball games during the summer.  They will be much more of a mesh of youth and less of a "club team" concept.  Across the board, both large and small clubs alike had issues organizing enough kids to create a team.  We will rotate fields to try to not have all games in one area of the county.  All 4-H members are welcome to join.  Our suggestion will be to perhaps have a list of "participating youth" from your club in case of cancelations due to rain/severe weather.  Yes, this is a very new concept we have never tried before with the 4-H softball program.  However, I think this will be an amazing way for all kids to learn to work as a team with new faces and meet new friends.  Isn't this why we joined 4-H in the first place?  To make our best kids even better? Please make this information available to all club members.  Also, please forward the information to whoever may be your club "Softball Coordinator."
All Games will begin at 6:00 pm at the field listed below.  Teams will be created as described the night of the game (teams may be adjusted based on the number of players in attendance or ages of players).  Rules for games are attached.
Game #1-Date: June 6th, Waldo Park. Team #1-Members living north of State Hwy 23 vs. Team #2- Members living south of State Hwy 23
Game #2-Date: June 20th, Glenbeulah Athletic Field.  Team #1-Members with the last name beginning A-M vs. Team #2-Members with the last name N-Z.
Game #3-Date: June 27th, River Park, Sheboygan Falls.  Team #1-Members who live east of State Hwy 57 vs Team #2-Members who live west of State Hwy 57
Game #4-Date: July 11th, Mitchell Athletic Field, Parnell.  Team #1-Members whose birthday is January thru June vs Team #2-Members whose birthday is July thru December.
If you have any questions, please give me a call at 920-207-4595 or email at simplevalleycreations@yahoo.com.
Sheboygan County 4-H Summer Intern – Application Deadline Extended to May 1, 2022
Watch for the opportunity to serve as the Sheboygan County 4-H Summer Intern 2021. Our 4-H Summer Intern is responsible for helping plan, promote and facilitate summer 4-H youth development experiences and opportunities. NEW THIS YEAR…there has been a significant increase in the salary this year including a $6,000 total salary/scholarship. If you know a college student looking for experience in positive youth development…this internship is for them. Applications are due May 1, 2022. If you have any questions regarding the 4-H Summer Intern Position, please contact Sarah at 920-459-5915.
2022 4-H Summer Intern Application
Position Description 2022
4-H Softball- Monday Nights – Watch for more information on this for the 2021 softball season.
It's 4-H Softball season! The schedule, field locations, and rules are linked below. Good luck to all who participate.  If you are a club that has not participated in our 4-H Softball, we encourage you to go and check out one (or more) of these games!  They are really geared for fun, learning basic skills, and 4-H member bonding.  If you are a club that just can't pull together enough team members, don't worry, you can be paired up with another club!
Sheboygan County Softball Schedule 2021 (003)
Field Locations
Rules
Go to the 4-H Camp Riversite Page for the Exploring Your Environment Events!