Sheboygan County 4-H Project Day 2022 – One of the highlights of our 4-H Spring Season is 4-H Project Day! It will be held this year on Saturday, March 12 from 9:00AM-12:15PM at the UWGB-Sheboygan campus. This is an opportunity for young people of all ages to learn from and teach various hands-on projects that are super fun and engaging. Participants are guaranteed to walk away, not only with a complete project, but also with the skills to explore more and dive deeper into project areas. We have 15 AWESOME sessions offered this year and each has what it takes to make an amazing morning of fun and learning. 
Check out the Project Day Brochure, and then register HERE. We look forward to seeing you there!
Sheboygan County 4-H Summer Intern – Application Deadline Extended to May 1, 2022
Watch for the opportunity to serve as the Sheboygan County 4-H Summer Intern 2021. Our 4-H Summer Intern is responsible for helping plan, promote and facilitate summer 4-H youth development experiences and opportunities. NEW THIS YEAR…there has been a significant increase in the salary this year including a $6,000 total salary/scholarship. If you know a college student looking for experience in positive youth development…this internship is for them. Applications are due May 1, 2022. If you have any questions regarding the 4-H Summer Intern Position, please contact Sarah at 920-459-5915.
2022 4-H Summer Intern Application
Position Description 2022
4-H Promotional Poster Contest – National 4-H Week is just around the corner . . . October 3-9, 2021! The theme for National 4-H Week is Find Your Spark! Help us celebrate by designing a 4-H Promotional Poster during the Sheboygan County Fair and beyond! (Posters can also be created at home and delivered to the Extension office at 5 University Drive, Sheboygan, WI 53081 by September 24, 2021!)
Posters must be 14" x 22" in size. No other size will be allowed. Do not use foam board or regular paper, please use only poster board. Posters of incorrect size will be disqualified. Posters may be white or colored.
Youth name, grade, and club (if applicable) must be on a 3″ X 5″ card attached to the back of the poster.
All types of art techniques may be used in the production of a poster (including collages). All posters should have a title or slogan in conjunction with the artwork. Copyright cartoons such as Snoopy and Garfield are not allowed.
All 4-H Clovers (those with H's) must adhere to the copyrighted guidelines. In short, no artwork or text may cover any part of the clover. The clover may not be tilted, flipped, distorted or color adapted. It must include the legal insignia: 18 U.S.C. 707 Hand-drawn replicated logos are acceptable with the friendly intent of promoting 4-H.
All posters must be one-dimensional. No raised material may be used for effect. Any 3-dimensional posters will be disqualified.
Posters will be judged on theme, originality, simplicity, appearance, neatness, and spelling! Yes, spelling counts! Posters will be judged in four (4) age divisions: Cloverbud: grades K-2; Junior: grades 3-5; Intermediate: grades 6-8 and Senior: grades 9-12
Posters will be judged and then distributed throughout the community for display through National 4-H Week. Posters will not be returned.
4-H Softball- Monday Nights – Watch for more information on this for the 2021 softball season.
It's 4-H Softball season! The schedule, field locations, and rules are linked below. Good luck to all who participate.  If you are a club that has not participated in our 4-H Softball, we encourage you to go and check out one (or more) of these games!  They are really geared for fun, learning basic skills, and 4-H member bonding.  If you are a club that just can't pull together enough team members, don't worry, you can be paired up with another club!
Sheboygan County Softball Schedule 2021 (003)
ANYTHING GOES
Come back in 2021 for the Anything Goes Competition which is always a great time to celebrate the end of the Fair with club members and other 4-Hers. Please watch for more information regarding this event and the possibility of it taking place. Talk to your club members, form a team, and get ready to get wild, sticky, wet and dirty in the annual Anything Goes Competition!!
Each club may enter one or more teams. If a club has more than 5 people, they can form a second team. Two clubs may combine to make up a team, as needed for ages and alternates.
All team members must be registered 4-H members and/or Cloverbuds. Each team must have one member age 11 or younger, and one member age 13 or older. 4-H Alumni Teams are welcome to join in the fun!
The games will be scored on accuracy and/or time.
All team members should be prepared to get wet and/or dirty! All participants should bring a towel and an extra change of clothes!
To register, contact the Extension with your team roster!
Sheboygan County 4-H Fine Arts Festival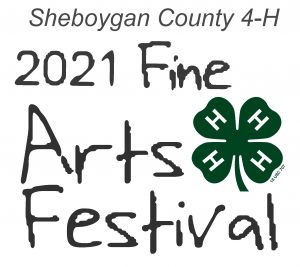 Spring 2021 might look different than past years, but one thing is for certain . . . the opportunity for our youth to shine and showcase their artistic talents will not be lost. Thanks to some great thinkers across the state and some 4-H leadership that is willing to share their work – Sheboygan County will be able to host its first-ever Virtual 4-H Fine Arts Festival!
Check out all the information and materials in this year's 4-H Fine Arts Festival Flyer! Then create, demonstrate and perform until your heart is content (or until March 7th)! Finally, upload your completed projects to the Online Submission Form and plan to join us on April 3rd for a final celebration of the arts in Sheboygan County!
2021 4-H Fine Arts Festival Registration
Virtual 4-H Awards and Recognition Ceremony- Monday, November 30th, 2020 6:00 p.m.
The Sheboygan County 4-H Youth Development Program celebrated the accomplishments of over 40 members and leaders during our Virtual Awards and Recognition Program on Monday, November 30, 2020. This program, typically held at and still supported by Acuity Corporate Headquarters, was adapted to meet the health and safety guidelines of our public health officials during this era of COVID-19.
If you were unable to join us for the program or would like to share the special recognition of our members and leaders with your loved ones, check out the links below to various sections of the program. It has truly been an honor to work with all of you this past year and I look forward to what we can build together in the years ahead!
A program listing all of our award recipients can be downloaded at: https://sheboygan.extension.wisc.edu/files/2020/11/2020-Awards-Program.pdf Virtual Awards Program Welcome: https://youtu.be/B22gcVqp4Rg
Pledge of Allegiance and 4-H Pledge: https://youtu.be/d29662opz24
4-H Leaders Association Past President Recognition – Kandy Huiras: https://youtu.be/fBeWNxWWsGw
Sheboygan County 4-H Clover Awards: https://youtu.be/iQqCglFaja4
Sheboygan County 4-H Cloverbud Awards: https://youtu.be/BEw-gi6U7yo
Sheboygan County 4-H Project Awards: https://youtu.be/3YbTbne3_QE
2020 Meritorious Service Award – Barb Scholten: https://youtu.be/RlM6449fcCw
2020 Friend of 4-H Award – Sheboygan County Fair Association: https://youtu.be/zHzDvKcKK1Y
Community Builder Traveling Trophy Award – Mosel Farm and Home: https://youtu.be/Jsia_EKB0J0
Spirit of 4-H-Spark Award – Chloe Breunig: https://youtu.be/P7UEeIuVB2U
Sheboygan County 4-H Club Officer Recognition: https://youtu.be/W78jJOl7-b8
Sheboygan County Record Book Awards: https://youtu.be/lFoWYcEy2jg
4-H Leader – 25 Years of Service – Kathy Froh, Alice Samse, Sharleen Meinnert, Heidi Ridge: https://youtu.be/59o8feXzitQ
4-H Leader – 50 years of Service – Beverly Resop: https://youtu.be/6KvQ8ha9NNA
It's a special time to celebrate and thank members and volunteers who take leadership to a whole new level in our program. Everyone is invited…members, friends, grandparents and neighbors…let's all celebrate together.
View the 2020 Awards Ceremony Program (pdf)
2021 East Metro Region Winter Leadership Camp
Attention youth leaders in grades 6-8 and adult 4-H volunteers! Don't miss your chance to participate in Winter Leadership Camp 2021! It is always a great weekend full of leadership development and fun! From team building, group facilitating, and goal setting to sledding, night hikes, and campfires, there will be something for everyone! Mark your calendars now for a terrific time…this year's Winter Leadership Camp will be held February TBD, 2021, at Camp TaPaWingo near Mishicot, WI. Older youth from throughout Northeast Wisconsin will come together at 4-H Winter Leadership camp to work on improving their leadership skills through hands-on, interactive leadership sessions. Youth will gain a better understanding of what it means to be a leader and how to apply being a youth leader in their club, county, and school. Along with leadership learning, youth will have opportunities to participate in a variety of recreational activities that may include sledding/tubing, snowshoeing, crazy games, and other outdoor activities. Adult leader volunteers are needed as chaperones to support youth in learning leadership skills and experiencing the great outdoors. Watch for registration details.
4-H Youth Leadership Council- Third Tuesday of Each Month 6:30-8:00 p.m.
This organization is for any 4-H member 7th grade and up. The group plans social and educational events for its members, and occasionally for younger members. This is a county-wide group and allows youth to make friends and work with youth from throughout the county. The meetings of the group are in addition to participation in a local club.
Contact 4-H Youth Development for more information.
Phone: (920) 459-5903
Go to the 4-H Camp Riversite Page for the Exploring Your Environment Events!