Mike Ballweg, in cooperation with Dr. Matt Ruark, UW-Madison Soil Science Department, and Steve Hoffman, InDepth Agronomy, has recently engaged in a new on-farm cover crop research study. The objective of the study is to better understand how to cover crop management influences crop yields, nutrient management, soil health, and water quality. This three-year study focuses on understanding the short-term management needs of utilizing cover crops in our traditional row crop systems. Results will be shared with farmers, agronomists, and crop consultants to help growers make individual management decisions that both protect the environment and improve crop profitability.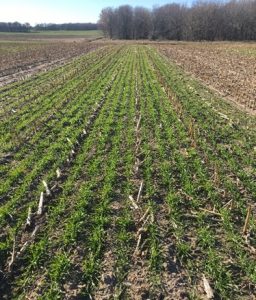 This cover crop of cereal rye, planted after corn silage harvest, will provide soil health benefits and protection against soil erosion.
Experimental design and measurements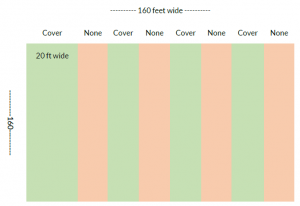 There will be two cover crop treatments (with and without) established in fall 2020 and eight N rates applied within each cover crop strip in 2021 (to corn). Cover crop biomass will be sampled in the fall before snow cover and in the spring before termination, as well as soil samples at those times. N will be applied as Agrotain® coated urea soon after planting. In-season soil samples will be collected in two of the N rates for each treatment. There will be a cover crop decomposition study using litter bags placed on the soil surface. In two of the reps, water sensors will be installed as well.
This work is funded by both the Wisconsin Fertilizer Research Council and the USDA-National Institute for Food and Agriculture's Sustainable Agricultural Systems program. All data will be provided to the farmer.