What is an Endowment Fund?
Although most adults understand what an endowment fund is and how it could help a community or program, many of our young people have not had any experience with this kind of investment. Please share this Annual Report with them and help them to see how this fund supports their program into the future but also today.
An endowment is a concept upon which community funds and community foundations are based. It embodies the idea that a community—any community—can decide to take its destiny into its own hands and plan for a better future. While there is no legal definition of endowment, it is commonly understood to be a gift of cash, assets, or other property donated to an institution in perpetuity. Typically, the gift is converted into cash—if it isn't cash already—and placed into an endowment fund.
In this endowed fund, the principal (that is, the amount of the original gift) is never touched, but it is invested to produce income. Community foundations and funds then use this income every year in three ways:
A portion is used to make grants to community nonprofit organizations or to initiate community programs
A portion is added to the principal, which causes the endowment to grow
overtime
A small portion pays fees to professional managers who invest the funds and to the community foundation for its services and operations
In essence, the funds become like a savings account, which will earn interest and be available forever.
The Fund was established in 1991 to provide long-range support for the Sheboygan County 4-H Program, beyond the current operating expenses of the 4-H Leaders Association.  Only the interest earned will be used to fund innovative and educational programs that support the strengthening and expansion of the 4-H program in Sheboygan County.
The 4-H Endowment Committee invites grant proposals from 4-H clubs, committees, leaders, and members. The committee is very interested in proposals that will enhance project experiences including recruiting leadership and opportunities for hands-on county-wide learning. The Grant is only for the Sheboygan County 4-H program, not individual members or clubs.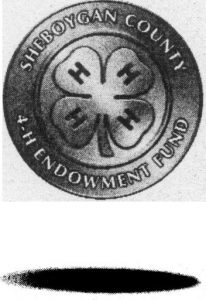 To learn more about grants awarded and the Sheboygan County 4-H Endowment Fund please see our Annual Reports on our website at https://sheboygan.extension.wisc.edu/4-h-information/4-h-supporters/