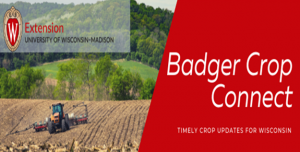 Due to face-to-face educational programming being canceled in March of 2020, Extension Educators from across Wisconsin developed a new virtual platform for delivering timely agronomic topics. That platform was called Badger Crop Connect. Mike Ballweg, Extension Crop and Soils Agriculture Agent – Sheboygan County, provided statewide leadership for launching this new and innovative program.   The target audience for the webinars were farmers, agronomists, crop consultants, government agencies, and other agricultural professionals.  The series consisted of ten bi-weekly programs and two special edition programs, in which county agriculture educators and state specialists provided updates on research projects and guidance on current crop production practices.
There was a total of 1217 enrollments which included individuals who signed up for multiple webinar meetings throughout the series.  Polls were conducted at the conclusion of each webinar to evaluate the programs.  Four hundred nineteen, 419 (about 34%) of the participants completed evaluation polls at the conclusion of each webinar.  Survey results showed that 88% reported the information presented as very useful or somewhat useful.
A separate survey conducted at the conclusion of the webinar series in October 2020 found that 415 people to include: farmers, crop consultants, government agency personnel and other agricultural service providers had signed up for one or more of the educational webinars.
One-hundred eleven, 111 (26.7%) of the 415 surveys sent out were returned.   Ninety-seven (97.27%) of the participants reported that they strongly to somewhat strongly agreed that the webinars were a valuable use of their time.  Eighty-five (85.71%) of the farmers that answered the survey, reported that they implemented the knowledge they learned on their farms. A total of 478 hours of continuing education were made available to Certified Crop Advisors (CCAs). CCAs accounted for about 40% of those attending.
The Badger Crop Connect program evaluation results were also shared at the North Central Weed Science Meetings in December 2020 as a way to demonstrate UW-Madison Extension's educational outreach during Covid-19. Citation: Training Tomorrow's Extension Leaders: Introduction and Call to Action. 2020. N.J. Arneson and R. Werle. 2020 Extension Symposium. Proceedings of the North Central Weed Science Society Virtual Meeting.